Update 10-03: 7.0 U2 has been released. The new fling below works!
Update 17-02: A new fling has been released to get the nic in the intel nuc gen 8 back up for good!
Community Networking Driver for ESXi
This Fling is a collection of ESXi Native Drivers that adds support for various PCIe-based network adapters (See Requirements for details). These devices are not officially on the VMware HCL and have been developed to enable and support our VMware Community.
Yesterday VMware vSphere 7.0U1 was released. As usual, I jump on the hype train and upgrade my lab but this time I had a challenge! Where the updated NE1000 driver in U1 works for the new NUC Gen 10 it fails for the NUC Gen 8. After upgrading I lost the onboard NIC. VMW_bootbank_ne1000_0.8.4-11vmw.701.0.0.16850804 should be compatible but it's not. How can we fix that? Well, I will show you below.
Good to know for now is that the USB Network Native Driver for ESXi is not supported yet for U1. So if you want to upgrade now, you will lose that. That said, you will need to download the VMware-ESXi-7.0U1-16850804-depot.zip from your My VMware account and place it on a datastore.
How to upgrade:
Log in to your host with SSH and put your host into maintenance mode either via SSH or vCenter.
We need to remove or upgrade the vmkusb-nic-fling first since it's incompatible for now. A new version has been released and compatible with U1. Download here.
esxcli software vib remove -n vmkusb-nic-fling

And then reboot. After the reboot log in to SSH again. As you can see the USB fling driver is gone now.


We can now update to U1 by the command below. Be sure to change it to your datastore where you placed the zip file.
esxcli software profile update -p ESXi-7.0.1-16850804-standard -d /vmfs/volumes/YOURDATASTORE/VMware-ESXi-7.0U1-16850804-depot.zip
This will take a few seconds and result in a screen with updated VIBS. DO NOT REBOOT!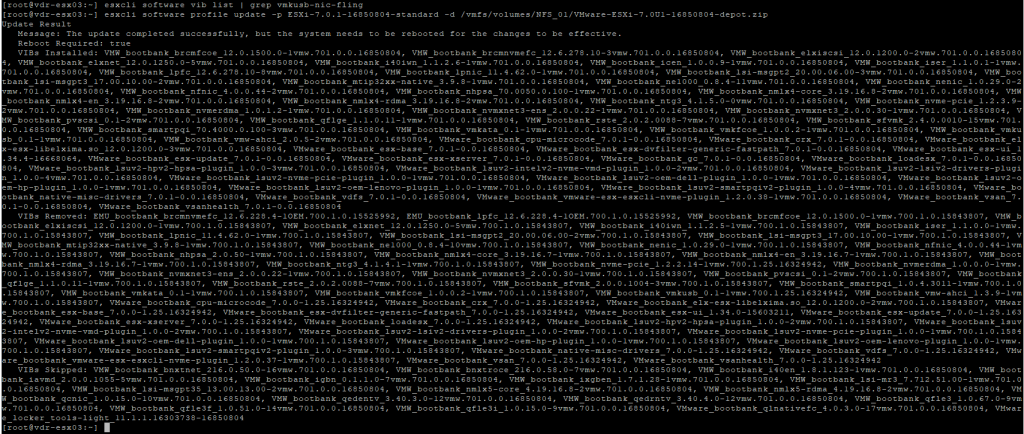 Before the reboot, we will downgrade the NIC driver to the driver of vSphere 7.0B. This can be done online since the NIC update happens on reboot.
esxcli software vib install -n ne1000:0.8.4-10vmw.700.1.0.15843807 -d https://hostupdate.vmware.com/software/VUM/PRODUCTION/main/vmw-depot-index.xml
As you can see it downgraded the NIC.


Now you can safely reboot. As you can see, after reboot the NIC is still here and on the working driver!

And you are done!
There you have it! How to upgrade to VMware vSphere 7.0U1 on your Intel Gen8 NUC. I'm not sure if GEN 7 or 6 has the same issue but this solution can help there too if it's the same driver. Otherwise, replace the driver with the correct one for your NUC. As seen below, my NUC Gen8 is on U1 with the onboard NIC active and running on the 7.0B driver.

Do not update after this!
When using the Lifecycle manager your host will be told it needs updates. Do not update or the NIC downgrade will be undone. The NIC driver is pushed separately and in the U1 rollup!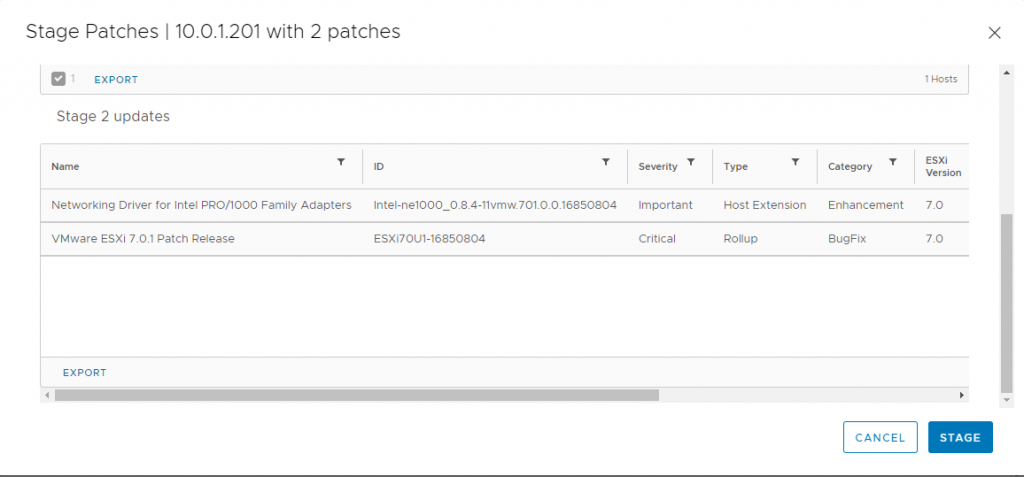 Want to download the working vib and create a custom esxi?
Use power CLI and the code below. then you can download the vib from the depot. or use ESXICustomizer script and pull the driver from the depot.
Add-EsxSoftwareDepot https://hostupdate.vmware.com/software/VUM/PRODUCTION/main/vmw-depot-index.xml

$vib = Get-EsxSoftwarePackage ne1000

$vib | select Name,Version | ft -AutoSize

$vib[4] | fl

Invoke-WebRequest $vib[4].SourceUrls[0] -OutFile d:\ne1000_0.8.4-10vmw.700.1.0.15843807.vib
The listing count starts from 0 so the driver we want is number 4.