App Volumes 2.12 just got released and it (finally) supports Office 2016!
Upgrading to App Volumes 2.12 is pretty straight forward although it's not really an upgrade process.
To "Upgrade" You remove the manager from the system and reinstall it. During installation you point to your existing database and presto, it's "upgraded".
Do not forget to do the same on every system where you installed the App Volumes agent.
So what's new?
Better user experience with faster login and application launch times. Maastricht University, who was our first customer using App Volumes (back when it was called CloudVolumes!), tested App Volumes 2.12 and reported back with 30-50% decrease in login time—wow! Other customers who were a part of our successful early access program for 2.12 reported similar and, in many cases, even greater improvements.
Improved Active Directory integration allows IT to manage assignments across multiple domains using a single App Volumes management cluster. Scale continues to be a main focus in our releases as is evident with tighter integration into Active Directory with added Sites and Services awareness.
Security enhancements in this release include agent to manager certificate validation.
Windows 10 Anniversary Update and Office 2016 are now supported platforms.
Update to the Tech Preview of Instant Clone Technology,
Below a guide on how to properly AppStack Office 2016.
Prerequisites :
Ensure that the following redistributables are present on the base image before you start the provisioning process . They will also get provisioned into the AppStack along with the Office application: applications.

vc_redist_2015.x64.exe for Win10
vcredist_2013_x64.exe for Win7

Run the Office installer file, setup.exe.
Choose Custom install, and choose to run all applications on the provisioning machine
Follow on-screen instructions and complete the Office installation.
Launch the Office application to ensure that it is activated and installed.
There is a official VMware KB article on what's supported with Office and App Volumes.
Click on Create AppStack.

If you just upgraded you now might be facing a problem that your datastores and template are unavailable. In this case you need to accept your vCenter certificate and rescan your datastores in the App Volumes manager. While your at it, re-upload the prepackaged template so that's updated too.

After this you can create your AppStacks again.
Give your AppStack a name.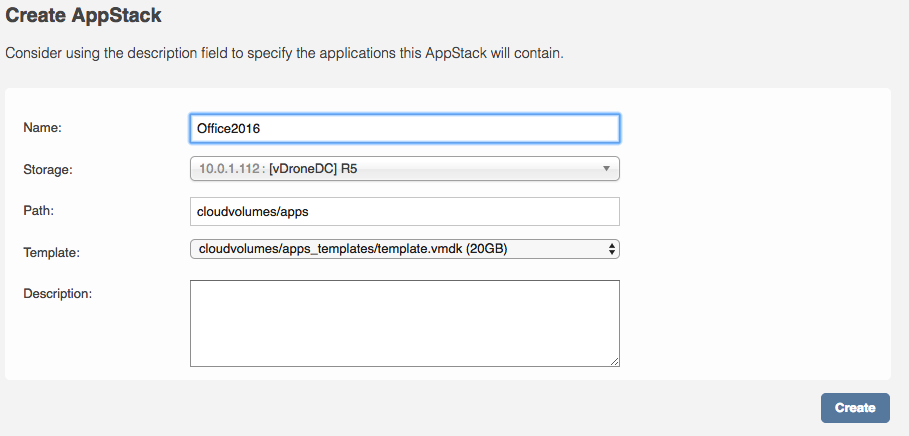 And press the create button.


Now provision your freshly created AppStack to your provisioning system.


Select you provisioning machine.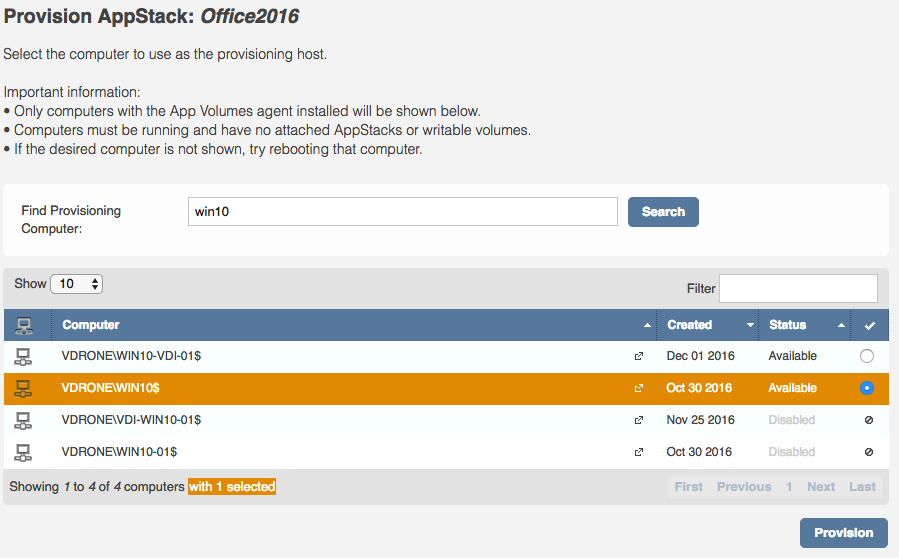 And start provisioning.


Check if the provisioning was done by validating it in the App Volumes manager


And on your provisioning desktop you will see the popup.


Now install Office 2016 like it's 1999.
Accept the terms and Continue.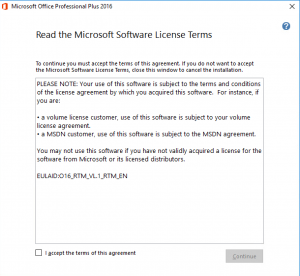 Choose what you want to install, for this guide i go easy and click Install Now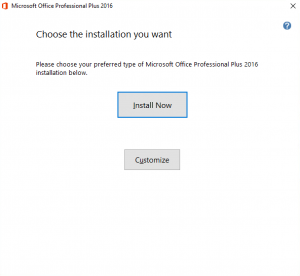 Wait for the installer to complete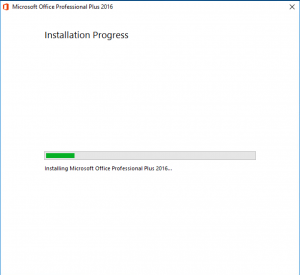 Click Close when it's finished.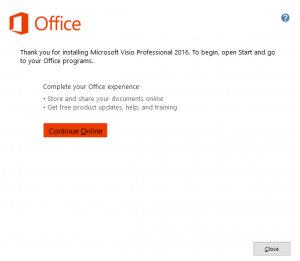 Click OK


And click yes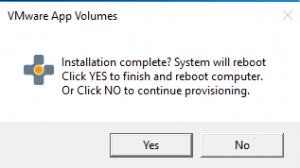 It will analyse the installed applications and click reboot.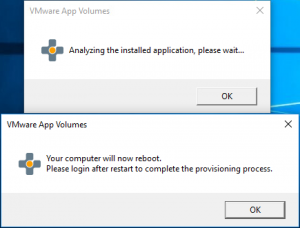 Wait for your provisioning desktop to be restarted and wait for the thumbs up.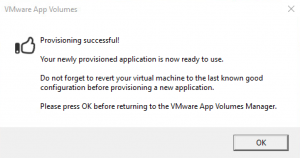 Log back in to your App Volumes manager and see your newly created AppStack with Office 2016!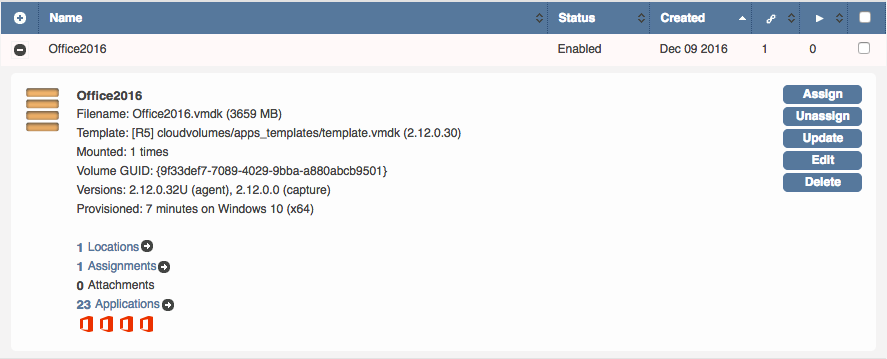 Provision it to your test user and log in to your test VDI to see if your package is working.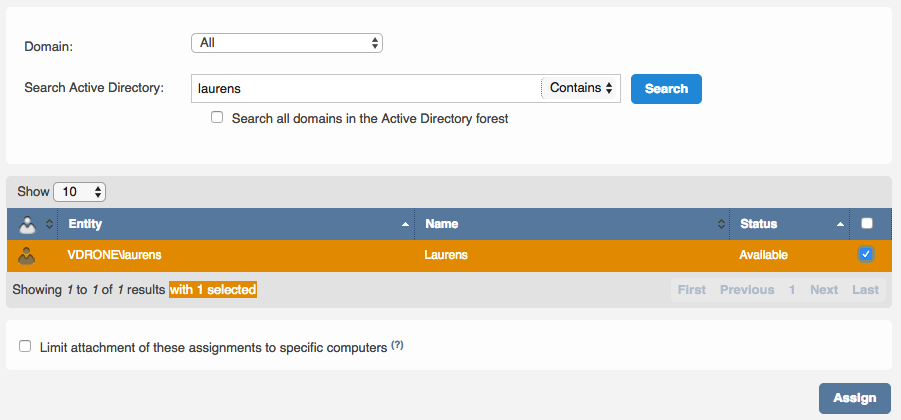 Now login to your VDI to see you have a working and supported Office 2016 mounted AppStack!
As you can see, The new AppStack is mounted and via UEM the shortcuts are presented for the Office Applications. Logging in this machines is much faster compared to App Volumes 2.11.
Shaved of a few seconds in logon time.