The Vortex 180 is the newest race drone from ImmersionRC.
It's the big brother of the popular Vortex 150, tuned for the track. The same highly-customized race-drone electronics, but with 4″ props, and custom XNova 1407-3500kV motors. The 150 was a lot of fun in confined spaces. The 180 is more at home on the track, incredibly fast and nimble, turns on a dime, and can give most 250-sized quads a run for their money. As with all members of the Vortex family, fully integrated flight controller, video transmitter, and of course a full-graphic OSD for PC-free configuration.
Coming in below 270 gram the Vortex 180 is not considered a 'drone' in many parts of the world. This allows the Vortex 180 Mini to be flown in many more places than its big brother the Vortex 250 Pro. Doors are opened to fly in a typical garden, or small park. A swing-set becomes a perfect power-loop target and garden furniture becomes a race gate, a new world of possibilities has just been opened up!
Special thanks to

I would like to thank Droneshop.nl for suppling this Vortex 180 to test, review and making me one of the first in the Netherlands to have this racer in my dutch hands.
Droneshop.nl is the one stop shop for all your drone needs in the Netherlands!
Looking for parts or ready to fly drones? Just hop over to the website and take a look.
These guys know their drones and have great customer service!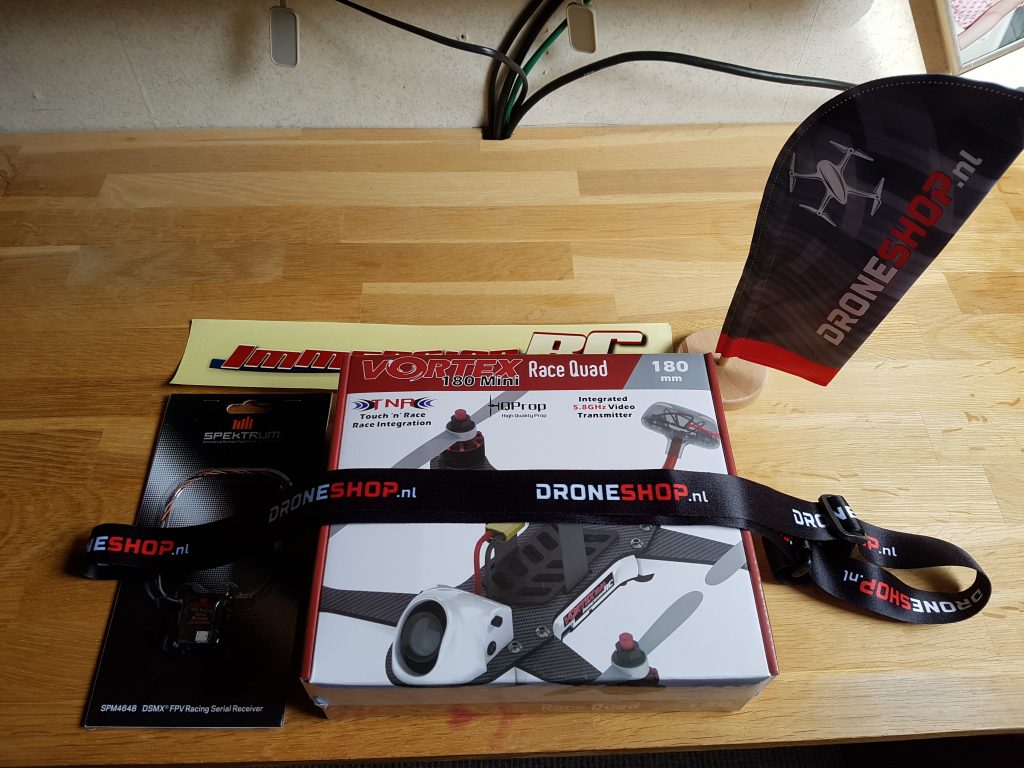 Want a Vortex 180 and Spektrum setup? Click below and order them! Then follow this review/guide to get setup and flying.
Unboxing the Vortex 180
Included in the box is:
1x Vortex 180 Mini Race Quad, Fully assembled and flight-tested
2x ImmersionRC Branded battery straps
1x SpiroNET Omni 5.8GHz antenna (Stubby, v2)
1x PPM Interface Cable
1x Spektrum(tm) Interface Cable
1x SBus Interface Cable
8x HQ 4″ 2-Blade Props
Vortex 250 vs. 150 vs. 180 Mini Comparison
The Vortex 150 and 180 Mini share many components with their big brother, the Vortex 250.
See my previous reviews on the Vortex 150 and Vortex 250.

The following table demonstrates the differences:
(1) Any similarly sized receiver will fit in the 150's Internal Rx Bay, larger receivers can fit outside.
Setting up the Spektrum DSMX Quad Race Receiver with Diversity is pretty easy. The Spektrum cable is connected by default in the vortex 180. You need to unscrew the 8 top screws and you have full access to the inside.
Then just plug it in and send the antenna's through the holes in the casing. As you see the receiver SPM4648 fits like a champ and hides perfectly inside.
Troubleshooting
was fortunate that out of the box i was unable to enter camera osd.
To fix this you need to tweak your osd button voltages. You can find this setting on the second page of the osd under advanced settings. These settings should get you close:
Default levels for FS Race CAM FPV but change the settings to the bold settings.
Select 1625 mV – 1650 mV
Up 775 mV -775 mV
Down 0 mV -0 mV
Left 1200 mV -1215 mV
Right 400 mV – 385 mV
Guide for some good camera settings!
Pros
Like the bigger frame size making it more race-able then the Vortex 150. The motor upgrade to the XNova 1407-3500kV motors makes this racer a real beast. It has immense power.
Price wise compared to the Vortex 150 is the Vortex 180 a real bargin for a ready to race quad.
Cons
Other than that the arms are a little longer, has beefier motors and 4 inch props instead of 3 it's still a souped up Vortex 150 that you can build your own if you buy the motors and the carbon kit 🙂
Verdict
Think a lot of people would liked to see that the 180 came a little sooner but hey.. these Vortexes are just awesome! My go to bag will now have a Vortex 150 and a 180 in it. Ready to rip any spot to shreds.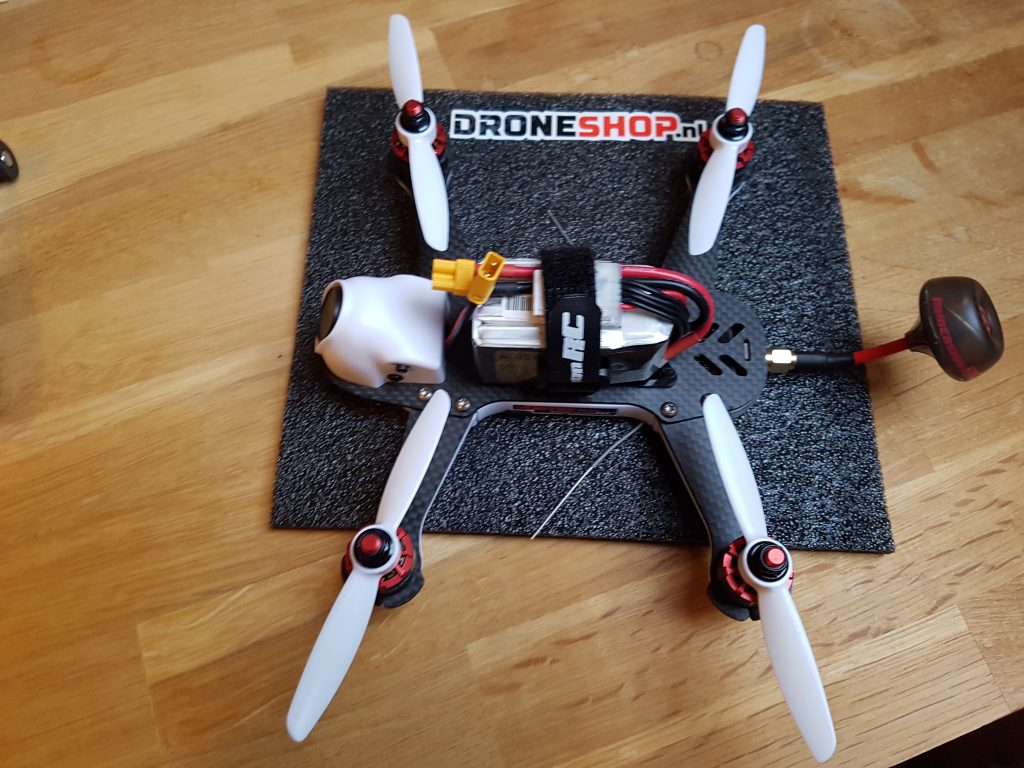 Physical meets Virtual
ImmersionRC's FPV Racing Simulator, LiftOff, has been used by many pilots to develop their skills without breaking a single prop.
Since its introduction the simulator has steadily increased it's feature set, now including all of the Vortex airframes, many race environments (including the famous Dubai World Drone Prix circuit), and recently a fantastic multi-player mode.
Race against other pilots in multiplayer mode, create tracks with the track builder, and download tracks built by the community.
The Vortex 150/180 Mini have joined their 285 and 250 brothers in this simulator.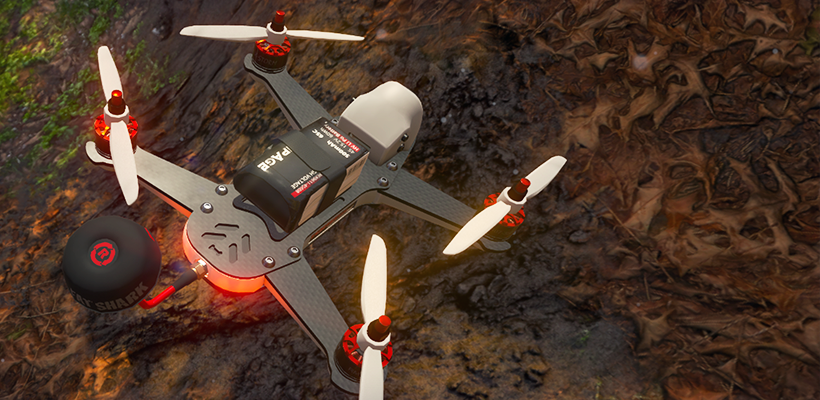 ImmersionRC has always been a great supporter of the project and good friend of the team at LuGus Studios. Their contribution to the FPV community is unmistakable and their motivation and approach to supporting project like Liftoff is a great example of what we love about the FPV scene in general. It's not just about racing, it's about supporting each other, contributing to a community of people who share the same passion. Update 0.10.9 is dedicated to ImmersionRC's flagship products: the Vortex drones. Not only do we bring a brand new Vortex model to Liftoff, but we are also giving the old Vortex content in Liftoff some much needed attention.
CHANGELIST
Added the new Vortex 180
Complete rework of original Vortex 285
Adding recolorable functionality to the Vortex 285
Added new 1407 – 3500kv motor
Added a new skin for the Vortex 150, dedicated to Flite Test
Minor bugfixes