Mojo, from the same team that brought you the successful ARF/RTF Vortex quads comes something with a little more spunk. The Vortex 230 Mojo is a crossover race/freestyle quad, excellent on the track, and a heap of fun for freestyling.
Un-box, install your receiver, mount the props and plug in your battery and be ripping around your local bando in 5 minutes flat.
Optimized for Freestyle by FinalGlide and GAPiT
The Vortex 230 Mojo has a center of gravity at the propeller level and a low moment of inertia thanks to the centralized mass. This gives a maximum authority to the flight controller thus giving crispy sharp stops or buttery smooth rolls. Featuring pro-tunes fine-tuned by none other than Chad Nowak/FinalGlideAus and Travis Samson/GAPiT you can fly like they do right out of the box (pilot skills not included, prior training required!).
The huge performance boost over the Vortex 250 Pro is thanks to modern BrotherHobby Returner R3 2206 motors that are over 50% more powerful and the weight savings of close to 100 grams. The Vortex 230 Mojo will rival any modern day top mount freestyle quad.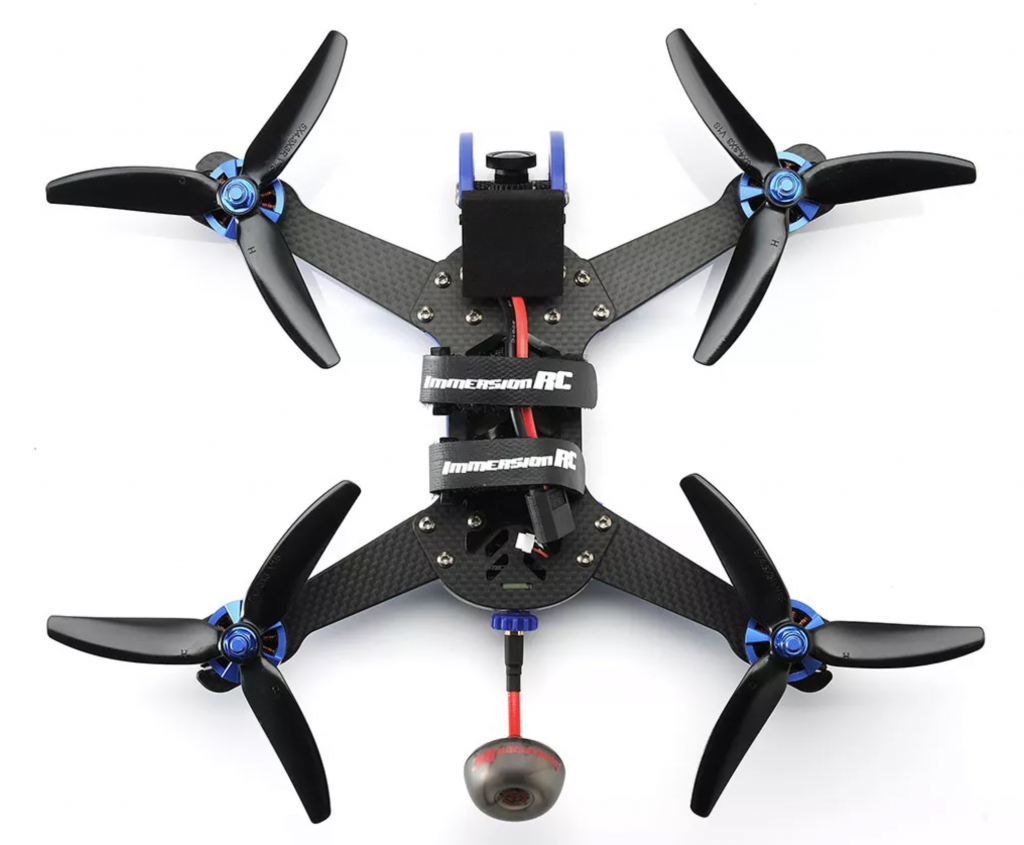 Extreme performance
The biggest performance boost compared to its predecessor, the Vortex 250 pro comes thanks to 4 brushless BrotherHobby Returner R3 2206 2300KV engines that give up to 50% more power. The Vortex 230 Mojo is also about 100 grams lighter than its predecessor.
The Vortex 230 Mojo also has a center of gravity at the height of the propellers and is extremely balanced so that the inertia is kept to a minimum. This gives maximum performance for the flight controller that enables extremely sharp stops and fluid rolls.
Fourth generation ESCs
The Vortex 230 is equipped with new 4th generation custom 32 bit 30A ESCs that support all common standards, including DShot 600. If you fine-tune these ESCs with Betaflight to your needs, you have a top-of-the-line race quad that responds quickly to your steering movements. Each ESC has an independent 32-bit ARM processor that can control almost any type of brushless motor.
The innovative RotorSENSE technology from ImmersionRC also ensures that you do not have to re-solder the cables of the motors if they accidentally spin in the wrong direction. Handy for any experienced drone racing hobbyist! This should allow for turtle mode.
Synergy Flight controller
This highly performing flight controller has an STM32F303 32-bit ARM processor, integrates a graphical OSD and an onboard video transmitter; and already supports Betaflight 3.2.2
Stunning Tramp HV VTX
The 230 Mojo is equipped with the Tramp HV 5.8 Ghz VTX  for the video transmission. This now legendary model has state-of-the-art technology and is about the smallest and lightest VTX available. The Tramp HV operates on all 40 standard channels, has additional channels for racing events and a TNR (touch 'n race) for the programming of channels etc via your smartphone.
The strength of the video transmission signal can be calibrated from 1 mW to 600 mW so that you can easily fly indoors and outdoors in Belgium and abroad.
The VTX also has dynamic power control so that while waiting for a race, the quad with a micro-voltage can be on so that the battery is saved and the temperature remains low.
Thanks to twin grounded cables, this transmitter can also provide the classic ImmersionRC 5V cameras with a fault-free signal. In addition to a traditional 5V power input, this VTX also supports battery power from a 6S LiPo battery!
Spektrum DSMX
ImmersionRC also developed DSMX Video Transmitter Control, developed in collaboration with the American Horizon Hobby. When this function is used, the quad will start up at the micro-volt level of pit mode and find a free channel, after which you can set the frequency band, the channel and the output power with your FPV glasses or the LCD screen.
For now, this function only works with certain Spektrum RCs. A Spektrum interface cable is included!
Unboxing the Vortex 230
Included in the box is:
1x Vortex 230 Mojo, Fully assembled and flight-tested
3x ImmersionRC Branded battery straps
1x SpiroNET Omni 5.8GHz antenna (Stubby, v2)
1x PPM Interface Cable
1x Spektrum Interface Cable
1x SBus Interface Cable
8 x HQ 5×4,3×3 V1S 3-blade propellers
Foam for HD Camera mount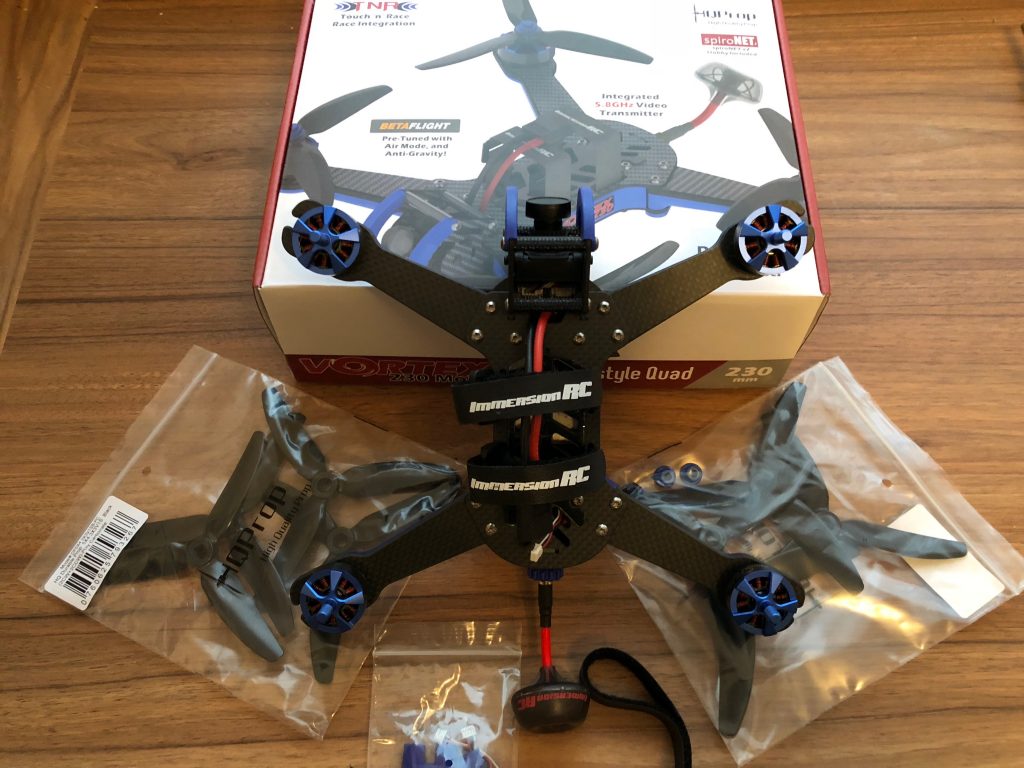 Vortex Family Comparison
Each member of the Vortex family shares the same roots, but with quite different specifications.
The following table demonstrates the differences: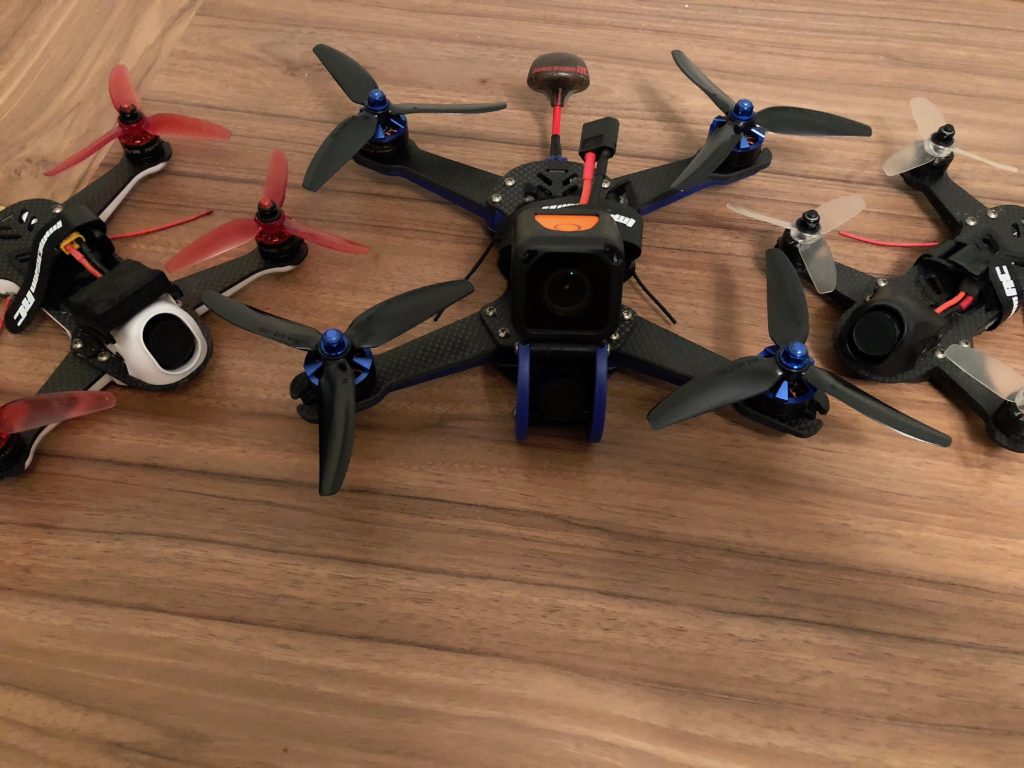 (1) Any similarly sized receiver will fit in the 230's Internal Rx Bay, larger receivers can fit outside.
Retail Price ($USD): $329
Initial Release Date: September 2017
Weight: 349g w/o battery
Power Requirements: 3s-4s LiPo, 4s 1300mAh >45C recommended
ESCs: Full Custom, 32bit, 30A, DSHOT, rotorSENSE, OneShot125, OneShot42 (upgradable)
Motors: BrotherHobby R3 2206-2300kV
Props: HQ 5×4,3×3 V1S Tri-Blades
Flight Camera: FatShark CCD gen3 (HS1177 Sensor & Chipset)
Receiver Compatibility: CPPM, S-Bus, Spektrum™, XBus, SumH, SumD (no external adapters required) Auto-Sense during setup!
Flight Time: Highly dependent upon the battery, and flying style, 3-4 mins typical
Note: Compatible receiver and display device required for initial setup and use, not included.
Firmware Updates
USER MANUALS
Pimp Kit
The Vortex 230 Mojo comes standard in black with blue but can be converted to your own color preference with a special pimp kit. ImmersionRC also releases a special TPU camera mount for the GoPro Session action camera. So you easily attach your action camera so you can make high-quality recordings of your drone flights.

Pros
Titanium hardware – lightweight and strong
Conformally coated electronics – this is a big one! For anyone who has had their flying cut short due to rain, conformally coating your electronics essentially waterproofs your drone.
Propellers in-line with the center of gravity and centralized mass – providing better, more consistent responsiveness from the flight controller.
Pre-loaded tunes from Chad Nowak/FinalGlideAus and Travis Samson/GAPiT mean that you don't have to spend ages tuning the Vortex 230 to get it flying well.
Direct connection to PPM, Spektrum, S-Bus, XBus receivers – making the Mojo compatible with (and easy to connect to) just about any receiver out there.
Pre-soldered for a clean build
LEDs at rear for orientation
Protective side plates
Comes with spare props
XT-60 battery connector (a vast majority of batteries now use this)
Durable
Cons
No spare parts provided (only props) – but this isn't uncommon with RTF racing drones
Carbon fiber seems a bit thin but is complemented by strength from the plastic frame
Top mounted battery – while this is ok for freestyle, the majority of racers prefer a bottom mounted battery
The titanium screws had a bad batch and tend to break easily.
Verdict
With its user-friendly interface, the Mojo is a great racing drone, but thanks to its impressive specification, could also be a competitor on the track. Its compact frame still allows it to spin racing standard 5″ propellers, making it a fast racing drone capable of acrobatic flight. Both beginners and experienced pilots will be entertained and for the price, this is an excellent package.
You could build something similar yourself, but the Vortex 230 comes without any of the hassle or risk!
Looking to buy a mojo?

Added a parts list to what I use below from my favorite supplier, DroneShop.nl
Great video from Vince Irie who flew this puppy for 4 months straight.