The ImmersionRC Vortex 250 Pro is a almost ready to fly racer.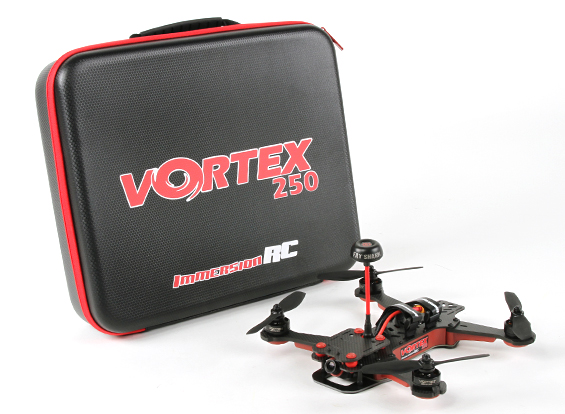 The Vortex 250 Pro is the result of listening to top pilots, taking the product to a new level, with the same level of integration as it's big brother, the Vortex 285.
ARF: You only need a remote, receiver, batteries and your FPV goggles. So no soldering required for there setups. But it does require to tear down this machine. Get to know it 🙂
For this kit these parts below are used and supplied by Toemen.nl:

ImmersionRC Vortex 250 Pro
Spektrum DX6i remote
Spektrum Air Transmitter Soft Case
Spektrum DSMX Quad Race Receiver with Diversity
Tattu 1550mAh 11.1V 75C 3S1P Lipo
Yellow RC Easy Charge Balancer Needs separate XT60 cable to charge lipo's.
Fat Shark Teleporter V4 Video Headset with Head Tracking (Nice starter goggles)
(DomintatorHD was on my mind but i'm still hoping goggles based on tech like light bridge, that would be a real kicker.)
The ImmersionRC Vortex 250 Pro:
ImmersionRC has designed the new Vortex 250 Pro as a purebred, high-speed FPV racer. They swapped out the 'F1' processor for the 'F3', added an integrated Black Box recorder, Gen2 20A ESCs, Serial receiver support… and so much more. As with the Vortex 285, the 250 is ARF, just add a compatible R/C Rx (CPPM, Spektrum, S-Bus, XBus, EzUHF, etc. etc.), and a battery, and go race, everything else is included, from the SpiroNET Tx antenna, to the props.
Download the getting started guide here.
Download the "Living Manual" here.
Features:
State-of-the-art 'F3' FC processor
2nd Generation 20A EzESCs with OneShot125, rotorSENSE
Built in black-box recorder (2MB)
Rigid 4mm Carbon Fibre arms (non-foldable)
Direct connection to PPM, Spektrum, S-Bus, XBus receivers
Ear-piercing Lost Model Alarm (much louder than it's predecessor)
GoPro-3/4 mount included
Specs:
Size (diagonal): 250mm (275mm option for 6″ Props)
Frame: 2mm Carbon Fiber, with 15x Aluminium Standoffs
Motors: 2204-2300 (CW and CCW)
ESC: 20/22A EzESC
Flight Controller:STM32F303 based ('F3')
OSD:Full Graphic
Arms: 4mm Flat CF
BlackBox with 2MB data storage
Rx Support: Native CPPM, S-Bus, Spektrum, XBus, SumD, SumH
Rx Selection: Fully Automatic
Case: Zipper case options at order time
Camera Mount: GoPro 3/4, mount included
USB Port: Through-Hole (Much more robust)
LED Board: v2, more robust
Standoffs: Metal (all of them)
FlightCam: 700TVL CMOS v2
Weight: ~415g without battery
Included:
Vortex 250 Pro Zipper case, fits 250 and 270 versions (5″ or 6″ props), with two zipper pockets
2x ImmersionRC Branded battery straps
SpiroNET Omni 5.8GHz antenna
PPM Interface Cable
Spektrum(tm) Interface Cable
SBus Interface Cable
8x Gemfan 5045BN GFK Props
Teardown:
Taking the Vortex apart is not that difficult. This can be done via the manual or check out this video below.
Setup:
Before you start working on any Drone, ALWAYS remove the propellors! Just learn to only put on the props when you are ready to fly. I have seen people smash up there fingers with accidental arming of the drones.. #FingerSushi
To set this up you can simply follow one of these youtube video's below. I can explain it here in writing or you can go RTFM but these 2 video's are freaking good!
The setup can be different depending on which receiver and transmitter you use on your kit so be aware of that.
In my setup experiences i had issues connecting my controller to the receiver. In the end it was simply a defective receiver and a new one worked just fine!
Using SBUS/Spektrum with Vortex 250:
By default the Vortex includes a pre installed CPPM cable to connect to your receiver, so if your receiver is not CPPM I suggest you bind your Spektrum receiver in Spektrum mode. CPPM wont work. However you will need to open the Vortex up and install the Vortex Spekrum cable. For full details see the official Vortex 250 quick start guide. This involves removing 10 screws on the top of the frame and 4 on the bottom so that you can access the flight controller board to plug in the SBUS cable. Be carefull though, do not put much tension on the board or you might snap it. If you want to be safe you can remove the whole top plate.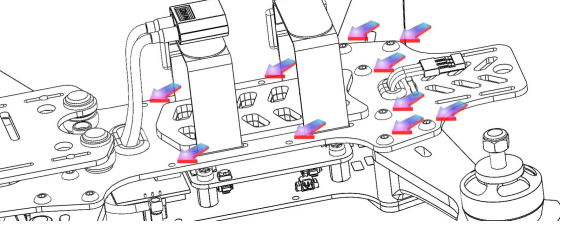 Remove the screws above and the four on the bottom that hold the side platings.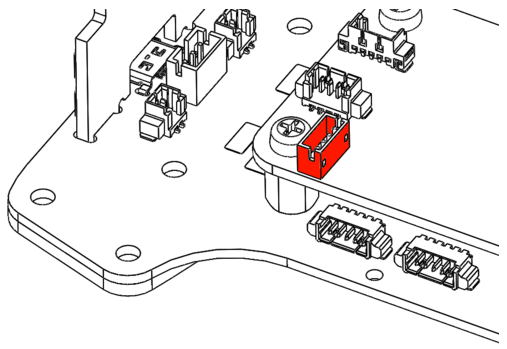 Then connect the spectrum cable to the red indicated connector.
To connect a DX6i to a Spektrum DSMX Quad Race Receiver with Diversity you will need to go into Clearflight or Vortex Configurator. Both are chrome add-ins and with it you can change settings of the Vortex via the USB connection on the back. You need to install drivers before connecting which can be found here.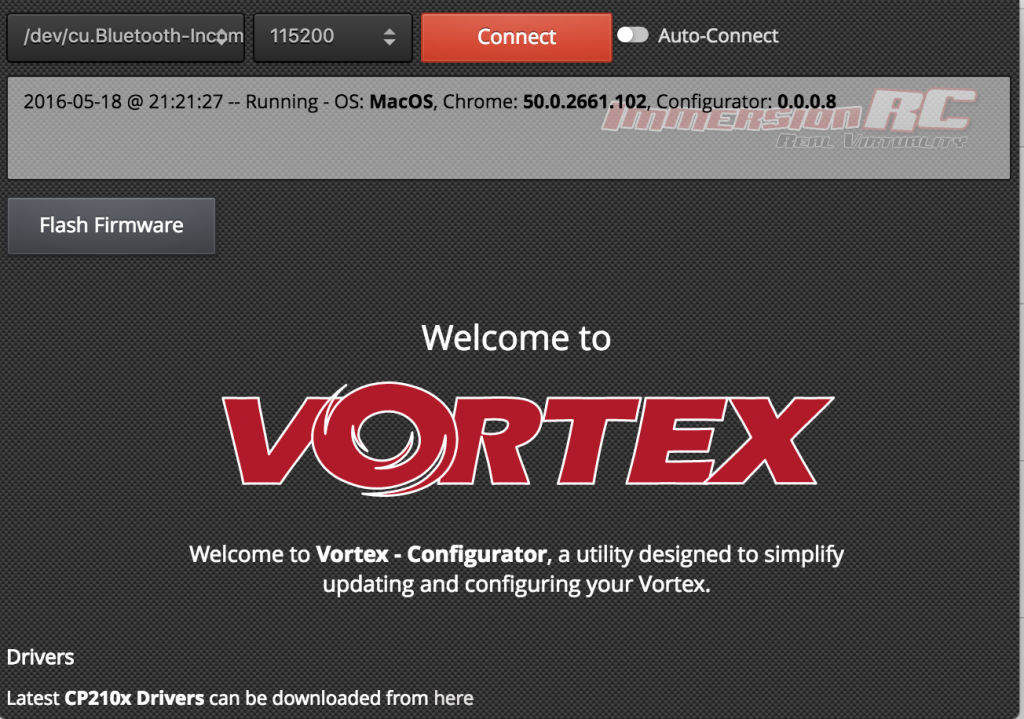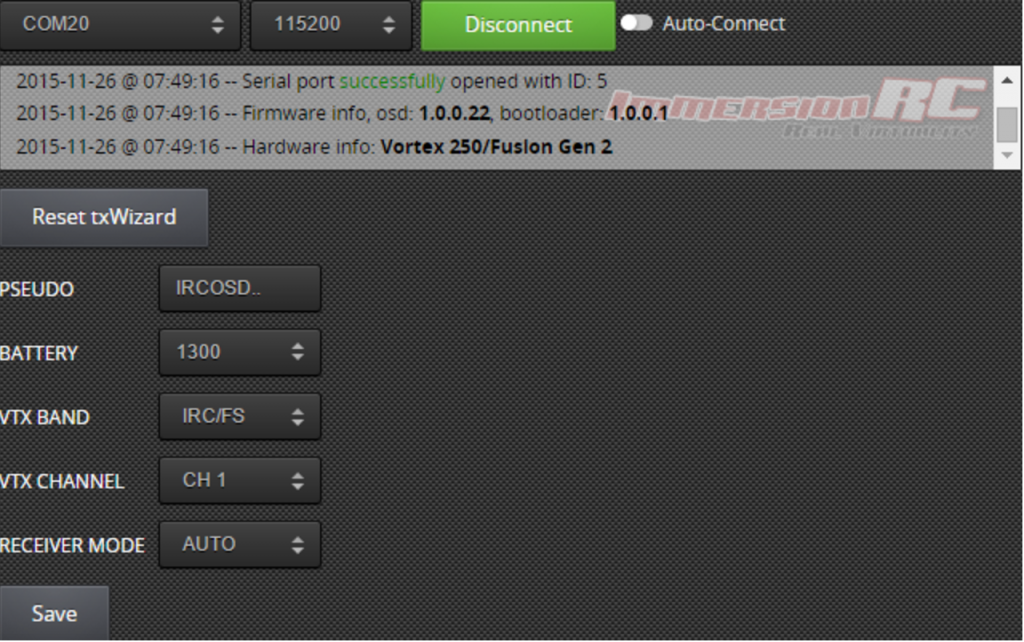 The settings that need to be changed to use the Spektrum receiver are:
Set the receiver mode from auto to Spektrum2048 and save.
Via these apps you can change more exotic settings a.k.a pro tuning and do firmware updates.
Within clearflight it is RX_SERIAL and SPEKTRUM2048.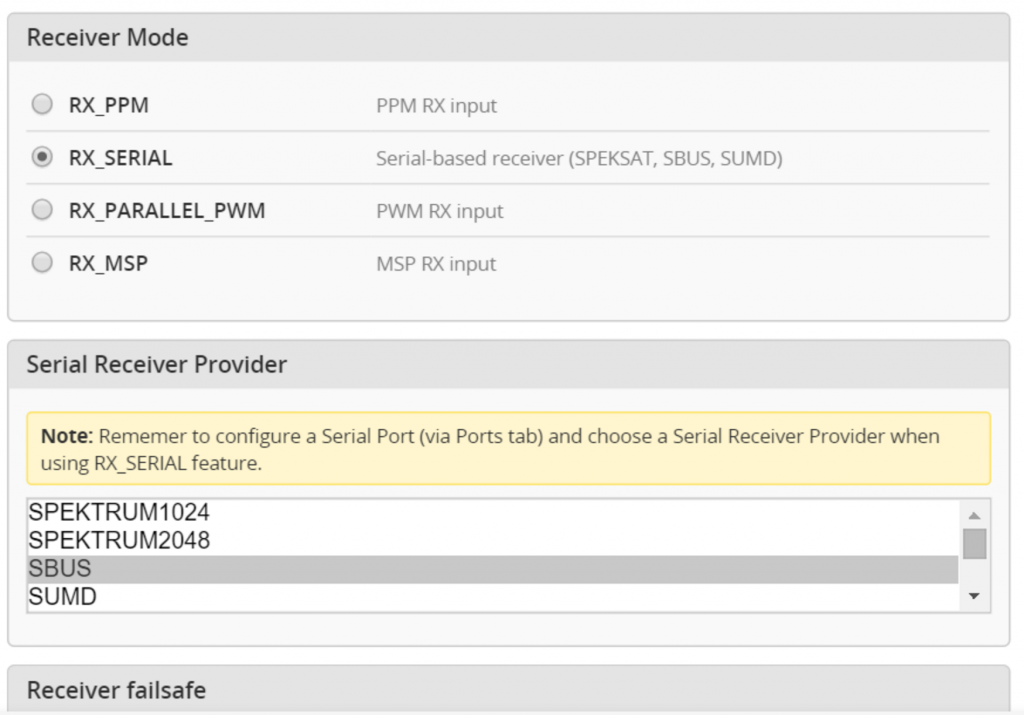 Binding the DX6i remote to the Spektrum DSMX receiver is pretty easy.
1. Lower throttle to lowest position and make sure the transmitter is powered off.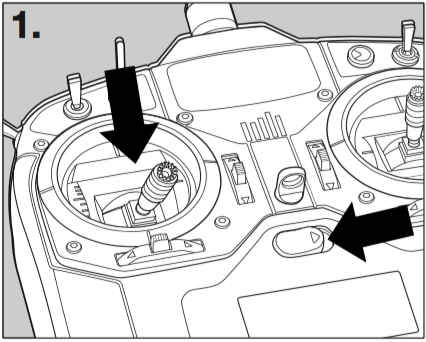 2. Power on the Vortex, the receiver does not detect a previous linked remote and it will go into bind mode.
3. The receiver's LED flashes when the receiver is ready to
Now you are up and running and you can go through the OSD setup.

Fat Shark Teleporter V4 Video Headset with Head Tracking:
These goggles are a nice for starters. It's also a perfect match for the Vortex 250 Pro.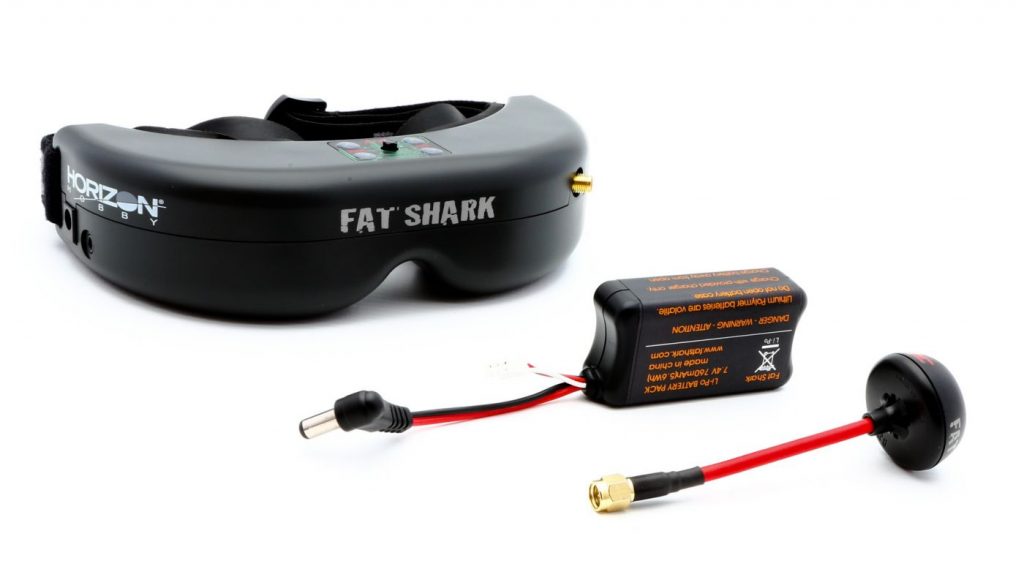 Key Features:
QVGA 320 x 240 LCD displays
5.8GHz wireless receiver
Spironet RHCP antenna
Digital head tracking for Spektrum FPV cameras
Trainer link head tracking for gimbal controlled cameras
760mAh 7.4V LiPo battery with charge adapter
Lens cloth
Overview
Developed exclusively for Horizon Hobby by Fat Shark, the Teleporter V4 headset is easily one of the best values in FPV fun. It's compatible with all Spektrum and Fat Shark 5.8GHz FPV cameras.
Digital Head Tracking
One of the coolest features of the Teleporter V4 headset is digital head tracking. Digital head tracking lets you look around the environment your model is flying through without the extra weight and complexity of a mechanical camera gimbal. Special sensors and software in the headset allow you to pan and tilt your field of view using the fixed-position VA1100 camera. It's just one more way this Spektrum FPV system lets you have more fun with fewer hassles.
This headset accepts a diopter insert to accommodate those who wear glasses. The Headset Diopter Insert Kit includes one pair each of Diopter inserts rated -2, -4, and -6 dpt.
In my case, i am far sighted and my view was blurry. i was able to correct this with the -2 diopter insert.
Trainer:
You also might want to check out the Liftoff FPV Racing Simulator. This is a very nice simulator available on Steam for Windows and OSX.
You can connect your remote with the trainer port to your system and start practicing your skills using your actual remote! This sim has you Vortex virtually! no pain in crashing that 🙂
A Trainer cable with USB can be found here for 12 euro:
USB Flight Simulator Cable for DX5e Dx6i DX7 JR Futaba RC RealFlight Spektrum Esky FMS
Also xbox 360 or playstation 4 controllers are compatible but that will not give you that real feeling.
I run this sim just fine on a Macbook Pro 13 with Intel Iris 6100 Graphics on 1650×1050 on the Beautiful settings.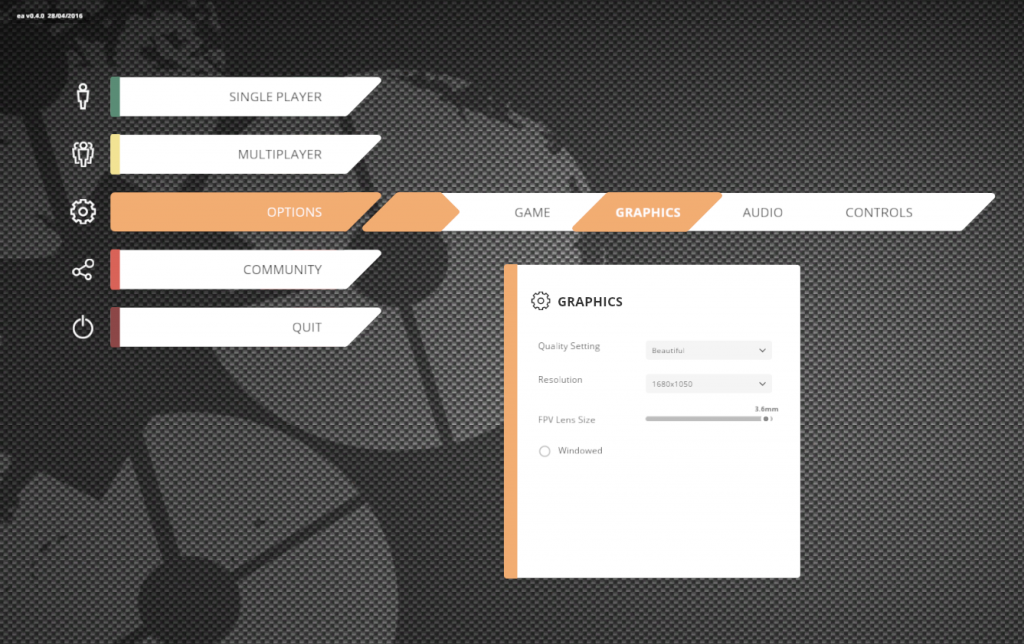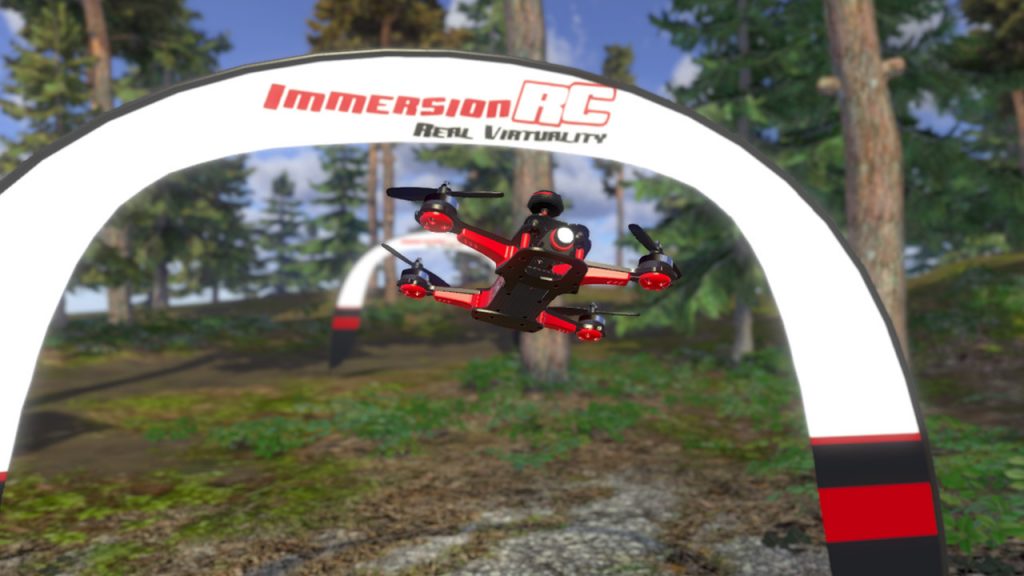 Firmware Upgrades:
Both the OSD, and the Flight Controller, are updated using the USB port on the rear of the Vortex.
Prior to any upgrade, please r emove all Props!. I f for any reason the props spin up during a firmware upgrade, serious damage to persons and/or property is very likely.
If your Vortex is not recognized as a valid USB device when you plug it in your PC, you will have to install a driver first. You can download it from the link above.
To update the OSD and Flight Controller you will need to install two chrome applications:
1. vortex-configurator
2. Cleanflight-configurator OSD Firmware Upgrades
To upgrade the OSD, use the new vortex-configurator chrome app.
Upgrade procedure:
1. Connect a Lipo
2.  Attach the Vortex to a Windows PC or a Mac using a standard Micro-USB cable. (ensure that this is a full USB cable, and not a power-only cable shipped with some  products)
3. Start vortex-configurator from chrome://apps/
4. Make sure the right COM port is selected and press the Flash Firmware button.
5. Point to the update file (OSD_vX.X.X.X.fw) downloadable from the Vortex 250 product page on the ImmersionRC website, and start the update.
If during a previous upgrade you had a problem causing the OSD to be bricked, you can still recover from this state using the procedure below:
Upgrade procedure for bricked OSD:

1. Press and hold fusion board button.
2. Plug Lipo (while still holding the fusion board button)
3. Release fusion board button after 2 seconds.
4. Plug into USB.
5. Start vortex-configurator from chrome://apps/
6. Make sure the right COM port is selected and press theFlash Firmware button.
7. Point to the update file (OSD_vX.X.X.X.fw) downloadable from the Vortex 250 product page on the ImmersionRC website, and start the update.
Mounting the GoPro Recliner:
Had some fun with this one! in the normal Vortex 250 guide there is not a lot mentioned on how to mount this.. fortunately in the Vortex 285 guide is!
To assemble the GoPro Recliner on to the Vortex you will need:
1.5mm hex wrench
2mm hex wrench
needle nose plyers
There is one position possible for the GoPro recliner.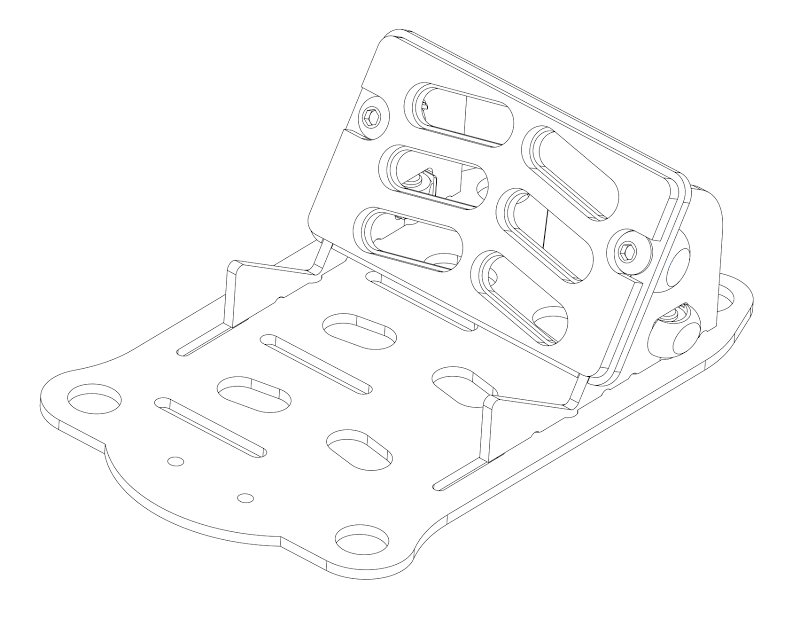 The frame is assembled using custom 'T-Nuts'. These consist of a plastic retaining part, an aluminium 'nyloc' M3 nut, and an aluminium M3 bolt.
The nut may be inserted into the retainer, with the flat part of the nut facing the flat part of the retainer.
This pair is then inserted into the 'T' hole in the first plate, and the screw inserted through the hole in the second plate. Once assembled stick the foam back plate on the carbon fiber back plate.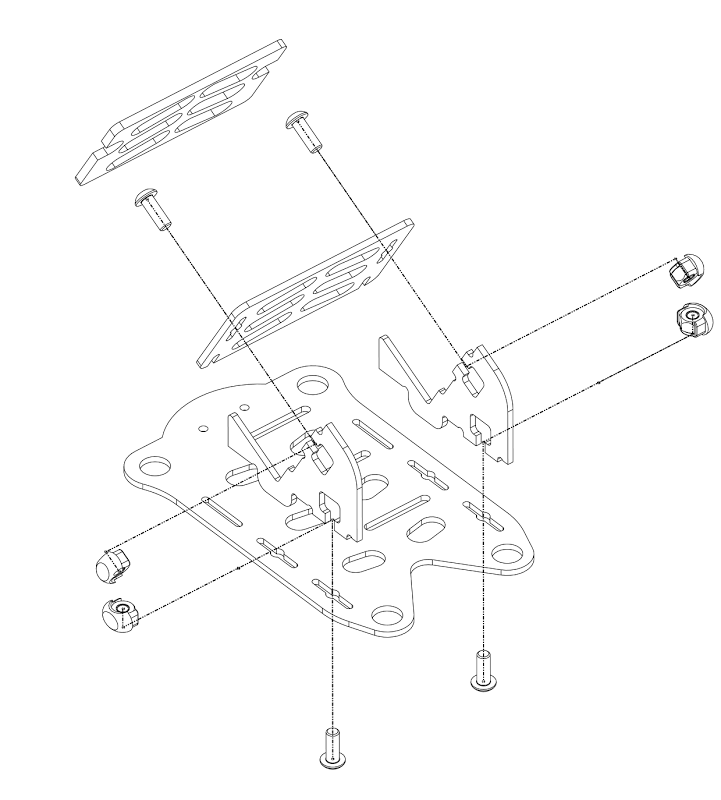 Installing the GoPro recliner on the Vortex
First remove the old camera plate, to do so start by
Remove the FPV camera support by removing the two screws with a 1.5mm hex wrench
Remove the retainer pins. The rear retainer pin clips can be a bit tricky without removing the side panels but with good grippy needle nose plyers it is fairly easy. If you find it difficult remove the side panels, you'll need to remove one for installing the GoPro cable.
Pull the old camera plate away from the frame to disconnect the dampers.
Install the new camera mount the same way, remembering to reconnect the camera if it was disconnected. Because of the weight of the GoPro, it is recommended to use the harder/red dampeners that came with the Vortex.
21-05-2016 First Flight:
Holy mother of all.. I flew a lot of DJI drones and some custom build but this ImmersionRC Vortex 250 Pro is a Beast! The immense power available when opening the throttle will take your breath away the first time. I flew the first time without the FPV goggles and in horizontal mode just to see how it handles. I would recommend anyone who is going into the FPV, do a few flights in Horizontal mode without FPV so you get the hang of the controls and use the simulator before you go FPV in ACRO mode.
This is also not a beginners race drone, so you want to get some experience flying drones. Even the Hubsan X4 are a nice and affordable drone to get started.
26-05-2016 Second Flight:

Getting more used to the FPV part. When you are doing it for the first few time, grab a chair! You might find it a strange sensation seeing the birds eye view and not normal eye contact. It's awesome to fly FPV and i'm getting more used to it. Acro mode is on when i'm a little more settled with the FPV part.
So that's it's for now, have any question just mail me via the form or to info@vdr.one.
Pro tuning the Vortex will be added later on.
Thanks to Jasper at toemen.nl for supplying this awesome machine and the great support afterwards.
Was unfortunate to have a defective Spektrum receiver (Shit happens) but this was swapped out for a new one within a day! So great support at Toemen in the Netherlands!