Few months back i builded myself a decent HomeLab.
This is still running like a kitten on steroids but having separate disks/datastores was getting annoying 🙂
To solve this i got my hands on a Adaptec RAID ASR-31205 12 port sas raid controller with 256MB ram and backup battery.
Yes could have done this with many software solutions but i like my hardware!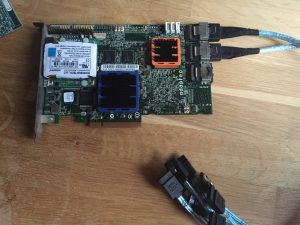 Also got an extra Crucial 480GB SSD and 2 more 3TB drives.
With this i now run a 3 x 480GB SSD Raid 0 setup. Gives me a whopping 1500mb/s throughput! My Horizon VM 's love this 🙂
With 4 x 3TB HDD in Raid 5 i have a big chunk of space and some "security" on dataloss (Raid is no backup so Veeam still does it's thing)
More build pics will be added.