This day for me is all in for the EUC Champions Program led by Brian Madden. For a EUC Champion like me, this day is the best day of VMworld. Packed full sessions with NDA information on new product updates, talking to engineers and so on.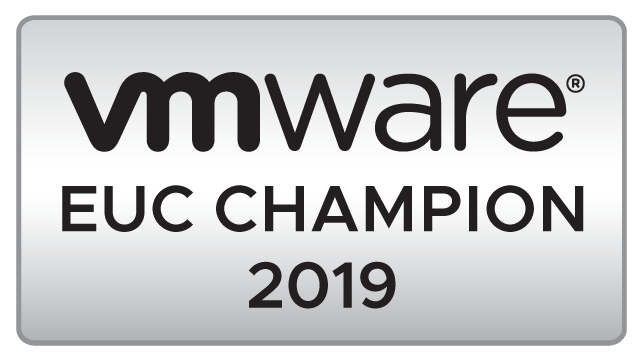 EUC Champions VMworld Product Discussions
Most of the information in these sessions are under NDA but rough planning for today was:
Agenda 
10:00 – 11:00 Arindam Nag & Jeff Ulatoski (App Volumes, Thin App, Instant Clones)
11:00 – 11:30 break / Shankar Iyer (SVP & GM of EUC at VMware, brians boss's boss 🙂
11:30 – 12:00 Rob Sterry (talk about our SaaS, open discussion)
12:00 – 12:30 Lunch
12:30 – 1:00 Mark Benson (UAG)
1:00 – 1:30 Naveen Pitchandi (iOS & macOS), he will have some folks from Apple with him too
1:30 – 2:00 Kevin Murray (Android)
2:00 – 2:30 Kiran Rao (Horizon, Protocol, Remote Experience, and Clients)
2:30 – 3:00 break
3:00 – 3:30 Nigitha Alugubelli & Parag Chakraborty: (Universal App Management for Horizon & UEM)
3:30 – 4:00 Andrew Morgan + ControlUP
4:00 – 5:00 – ControlUP will buy drinks down at the hotel bar for those interested
5:00 – 7:00 – EUC Tech Talk / Beer event, in the Marriott also, level 2, room Foothill C
EUC Community Tech Talks with Brian Madden
VMworld 2019 in San Francisco is just about a month away, which means it's time to start planning your schedule. I'm happy to announce that I'll again be hosting the evening EUC geek / tech talk / beer / junk food / evening event on Wednesday evening.
We did this last year too—my first year at VMware—and it was a great time. Our thinking is that while VMworld is awesome, it's also awesome, like, very huge, and it seems like us EUC folk get lost in a sea of a billion vSphere, vCloud, NSX, and vSAN lovers who don't give a hoot about EUC. (Not that there's a problem with that. They care about EUC as much as I care about cell phone tower virtualization—it's cool to hear about, but not my jam.)
So the idea is we reserved a room for a few hours with beer and junk food where everyone who's interested in EUC can hang out and chat. As part of this, we'll have some prepared talks, but they will be short, just 15 minutes each. 
A few of the speakers:
• Andy Morgan, Running Citrix on VMware Cloud on AWS
• Christiaan Brinkhoff, WVD and VMware Horizon
• Johan van Amersfoort, Using the same hardware for VDI in the day, AI/ML processing at night
• Jack Madden, User enrollment in iOS 13
Wednesday, August 28, 2019
5:00 PM – 7:00 PM (we secretly have the room til 8. Shhh!)
Marriott Marquis, Level 2, Room: Foothill C
VMworld Fest
In the Bill Graham Civic Auditorium, Billy Idol and One Republic will set this party on fire.
Continuing VMworld tradition of unforgettable experiences, VMworld Fest is back with another helping of fabulous food and incredible music. In 2019, we are on home turf in San Francisco, bringing a block party extravaganza fitting of such a homecoming. An energized and dynamic Civic Center Plaza serves as our backdrop for the evening. Ready for it? Let's go!
Strut down Grove Street – the main street of the party – which will feature a bevy of food trucks from SF favorites like Bi-Rite Creamery and Johnny's Doughnuts. Feeling more salty than sweet? Check out "animal-style" sliders and poke nachos. We'll have something for everyone. Now that you are satiated, it's time to dance your way into the night. Join us inside the iconic Bill Graham Civic Auditorium for a steady serving of show-stopping entertainers. We can't wait to celebrate with you!